When you're making an international move, a great way to get the kids excited about the adventure is to spend a day at Disneyland.  However, a much longer visit is needed to truly experience the many facets of the park and surrounding attractions.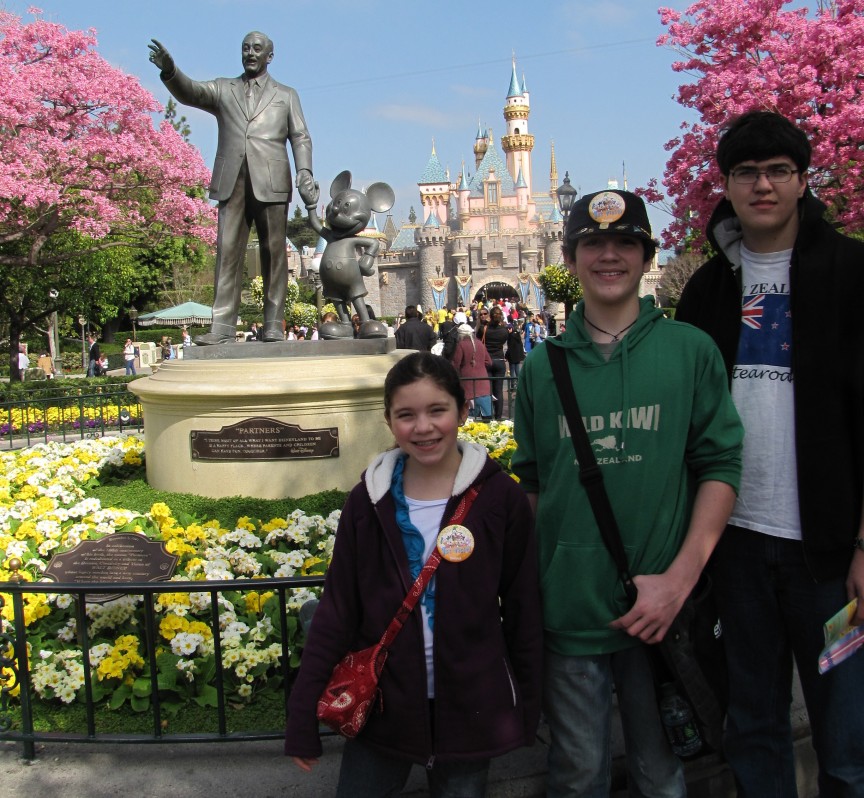 Walt Disney's creativity was simply magical
It's impossible to see and do everything in one day, so for us it was easier to simply have each of the kids identify the 3-4 things that they most wanted to do, and then focus on those few things … although some flexibility is required when faced with an enormous line of people waiting for certain rides.  A Fast-Pass helps by getting you to the front of the line, but you can only hold one pass at a time for each ticket.
Our kids have quite different interests, but we elected to keep the family together most of the time – and made a particular meeting place for the few times that we divided up to pursue specific interests (the pizza place in tomorrowland).  While the teenage boys were not that interested in the spinning teacups, and our daughter wasn't that excited about the 'Star Tours', they did find out that most things were fun for almost anyone.
Downtown Disney doesn't require a park pass, but certainly helps prolong the experience from the previous day.  It was a great way to fill our day before an evening international flight.  There are certainly lots of shopping and dining options for almost any taste or interest.  I would recommend the Rainforest Cafe if you have not been to one before, and most kids would think the Lego store was a pretty cool place (they're in process of building a new place a few doors down the road)
Dad's Recommendation:
Plan a few days at Disneyland if possible, but don't underestimate the benefit of just a single day to break up a long journey.
Use the Fast-Pass system with care.  We would get Fast-Passes for the parents, then use those for the teenage boys in the family – so was one way to maximize the use of these passes.
We are traveling across country as part of a move to New Zealand.  This type of travel is much different to the business trip where it's all about the art of the carry-on, with micro-computers/media devices, ensuring no liquids, metal belts or lace-up shoes.  Our trip is more about maximizing the checked luggage (reference my previous review post about the luggage scale) … so we ended up with 11 checked bags for the five of us (plus 5 carry-on's and 5 personal items – making 21 articles to keep track of).  The first rule when traveling with lots of people and bags, is that it's important to keep a good count on everyone and everything – and avoid the 'Home Alone' possibilities.
I've often wondered what the absolutely most important item is for keeping in your hands for use during the flight.  I've tried many things over the years, and often find my iPod is the best since I can listen to some tunes during the long hours on a plane.  My son just bought a Nook colour and I really liked using that as an e-reader – even if it doesn't provide the same texture, feel and smell of a good book.
However, it's hard to overlook a comfy eye-shade, blanket and neck cushion as my daughter demonstrates.  It reminded me that we need to consider the different needs of everyone in the family when we're helping prepare for a long trip.  We made a point of stopping in Dallas Forth Worth (DFW) on our trip since she was born nearby.  There's not much that compares with the contagious excitement of a young child about the simple pleasures of life – such as visiting the city of her birth.  Sometimes it's worth making an extra layover instead of simply taking the direct flight.  Not only does an extra layover break up a long flight into smaller segments, but it allows you to experience the culture and atmosphere of a different place.   Each airport seems to incorporate the character of the city it serves, and DFW isn't an exception – and truly feels like you have landed in Texas.
Getting a large group of people and bags to and from an airport isn't a small challenge either.  Using a shuttle is usually the best option, whether a free service or on a cost per person basis.  We've used taxi's and limo's before, but there are limits about how many people and bags can be moved at one time.  When we landed in LA, we were able to get a GMC Yukon XL, and it was an ideal size for our family of five with all our stuff.  I shudder to think of how we would have managed with a smaller vehicle.  Of course, moving house and home is a much more challenging movement than a holiday, but it's important to consider these things when planning out the trip.  In addition, with a family of five it's important to choose a hotel room carefully.  In our case it made sense to get two rooms with a connecting door – the extra space goes a long way to avoiding the pressure cooking experience of sharing a room with a couple of teenage boys.
Dad's Recommendation:
Plan your family trip so that there is adequate time to visit the Sky Club Lounge (or equivalent) at each of the airports you visit along the way.  Allow an extra 30-60 minutes so that you can relax in comfort, and don't need to rush between gates.  It's best to minimize anxiety and stress at every opportunity.
Also, make a point of visiting DFW – it's also one of my favorite airports and is very well organized. The new SkyLink makes a fabulous way to see the airport from 50 ft above the ground, plus makes for a quick connection between terminals.
Hi there! 
My name is Warren, and I'm a working Dad who happens to travel a lot – mostly for work, but also for fun.  I usually fly over 100,000 miles each year – most of which is international, but will also drive places within the USA for family holidays and various adventures.  I've been traveling internationally since 1983, and have been to every continent except Antarctica. 
Most of my work travel involves leading teams of professional engineers, planners and architects to remote locations of the globe, primarily for the planning and development of infrastructure and facilities.
I am married to Colette, since 1988, and we have three children; Peter (16), Luke (13), and Anna-Kate (9).  Over the past 25 years we have lived in Jacksonville, FL; Chattanooga, TN; Atlanta, GA; Blairsville, GA; Denton, TX; and Christchurch, New Zealand.  We presently live in Atlanta, GA.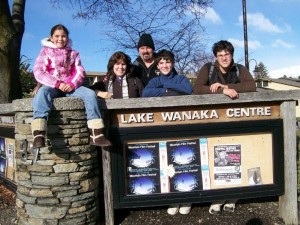 Hopefully you will find the contents of this blog both entertaining and educational as you prepare for whatever adventure you have planned.
Regards,
Warren