A visit to Wanaka isn't usually the top of anybody's so-called bucket list.  After all, New Zealand is a long way away from everybody in the world (except for a small number of hardy locals).  However, this vibrant community has been branded The World's First Protected Lifestyle Reserve for good reason, and it's worth making the journey from wherever you call home.
Our family visited for a week, and each of us wanted to stay longer.  You too will feel the intoxicating atmosphere and helplessly succomb to thoughts of immigration.  It's not just the allure of a picturesque lake surrounded by textured mountains raising their jagged teeth into the crisp and clean southern hemisphere sky, it's the people who make a place memorable.  Wanaka is a melting pot of people on a small and intimate scale, and seems to include mostly those who are friendly and outgoing in nature … whether the few who are blessed to be a permanent resident, or the international travelers who ebb and flow through this gateway to paradise.
While Wanaka feels surrounded by mountains, it doesn't feel claustraphobic at all; rather it's invigorating and somehow private, like finding a hidden nugget of gold like the early pioneers so eagerly sought.  The town indeed started from gold rush in the 1860's, although I believe the greatest rewards are the views above, and not what lies buried beneath. 
Queenstown is known by many as the Adventure Mecca of the World, yet Wanaka is just a short drive over the Crown Range, and in many respects is the more comfortable and relaxing of the two.  The winter thrill seeker is equally close to the treeless ski slopes which overlook spectacular vistas of lake and mountain, while the more adventurous have heliski options that stretch the imagination. Four seasons provide a wide variety for the pursuit of outdoor activity and summer activities abound, although our visit was just in time for the first day of the ski season.  I find myself compelled to plan another trip back, for there is so much to do and so many things to see … one week just isn't enough, nor just one season.  What are the immigration rules again?
Dad's Recommendation:
Rent a warm house with a nice fire during the winter months, preferably walking distance from the lake (not a difficult task).  Visit the Puzzling World and make your way through the 3-D maze before enjoying your favourite coffee over the mind-bending puzzles (don't forget to look for the many optical illusions).
Sometimes we miss the hidden gems that are right in our own backyard.  Old Mill Park in Roswell, Georgia is an example of this, nestled just outside earshot of the busy intersection of Marietta Hwy (GA-120) and Atlanta St (GA-9) near the Old Roswell Square.
Old Mill Park can be found at the bottom of the Roswell Mill development, featuring the Vickery Creek covered bridge and the Mill Dam.  Our family simply went to visit for a couple of hours, but we bumped into some young people who had brought along the makings for dinner, and it looked like they were planning to stay for a good while longer.  After the obligatory photo at the park entrance, the kids couldn't help themselves but race to the covered bridge.
The covered bridge was rebuilt in 2004, and provides a comfortable and relaxing walkway over the bright and bubbly creek.  We stopped on the bridge to enjoy the soothing colours and sound of this convenient get-away, before scrambling down to the colourful creek bed for the kids to play.  While we were not the only family with pants rolled up and wet feet, it didn't feel crowded at all – and enjoyed 20-30 min with nobody else around at all.
Although the creek has been renamed to Big Creek, skeletal remnants of the old mill still stand unyielding to time.  To be fair there were more than one mill on the creek, and Sherman's forces destroyed this mill in 1864, lightning then destroyed the replacement in 1929, and the remains are from the last edition of the mill which was operational until 1975. 
The Mill Dam provides a wall from which myriad water courses cascade like a veil.  While we didn't walk right up to the base, we could clearly see a young lady who appeared to be getting portfolio type photos taken with the dam as a backdrop. The dam site was more popular than the covered bridge site, all taking time to enjoy the peaceful outdoors and attractive beauty of falling water. A walkway provided easy access and informational signs provided a brief history of the various sites along the way.
Overall, the area begged us to come back and visit another time and to stay a little longer.  However, often the best time to depart an attraction is shortly before you run out of things to do, for then it leaves you wanting to go back and minimizes the chance of children complaining about having "nothing to do".  That said, creeks and lakes seem to provide limitless attraction to our boys who never seem to tire of tossing rocks into water.  The portable toilet near the park entrance was the only item that seemed out-of-place, and one wonders why something more permanent hasn't been added yet.
Dad's recommendation:
Go ahead and take the family for 2-3 hours, but plan on getting your feet wet and take a towel for drying off.
Hi there! 
My name is Warren, and I'm a working Dad who happens to travel a lot – mostly for work, but also for fun.  I usually fly over 100,000 miles each year – most of which is international, but will also drive places within the USA for family holidays and various adventures.  I've been traveling internationally since 1983, and have been to every continent except Antarctica. 
Most of my work travel involves leading teams of professional engineers, planners and architects to remote locations of the globe, primarily for the planning and development of infrastructure and facilities.
I am married to Colette, since 1988, and we have three children; Peter (16), Luke (13), and Anna-Kate (9).  Over the past 25 years we have lived in Jacksonville, FL; Chattanooga, TN; Atlanta, GA; Blairsville, GA; Denton, TX; and Christchurch, New Zealand.  We presently live in Atlanta, GA.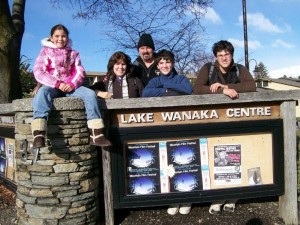 Hopefully you will find the contents of this blog both entertaining and educational as you prepare for whatever adventure you have planned.
Regards,
Warren